The Plunge: Or How to Drop $14,000 on an artistic success and a financial failure. (see: the first letter)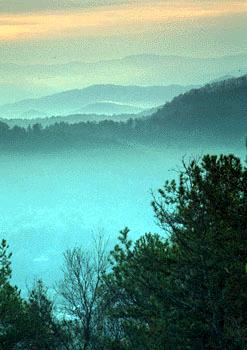 Photography of the Smoky Mountains by Al Hearn
---
LAND'S END PREMIERS IN SAN FRANCISCO!!!!
Gary Cardin's "Land's End" opened in San Francisco on July 24, 1998 at The Yugen and Noh Space, 2840 Mariposa Street, San Francisco, CA 94110
This play consists of three dramatic monologues centered around a place in the Smoky Mountains, where the land falls away and there is nothing but wind and clouds and a haunting melody. Literate, sensitive, dramatic and often hilarious, Land's End holds a universal appeal, while still being firmly grounded in the Smoky Mountains.
---

Contact us at: Stolenfire@fix.net
---
(Last update June 11,2002)